A day on the road or a staycation?
Whether you're going out for the day or looking for a permanent parking spot, Vicky has already found somewhere for you to park. With exclusive parking spots in different cities, you can always be sure of a safe place for your car.
Download the Vicky app and find your parking spot.
Where are you going?
Vicky will be happy to hold a spot for you. Let her know where you're going and find out immediately whether Vicky has a space available for you!
Are you going to any of these cities?
Hi, I'm Vicky.
Your personal parking assistant!
Whatever your parking need is, I'm on my way to assist.
I'm happy to help you with: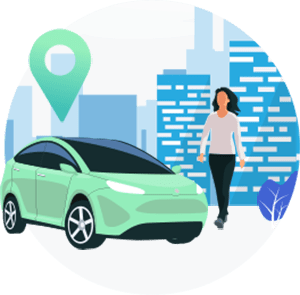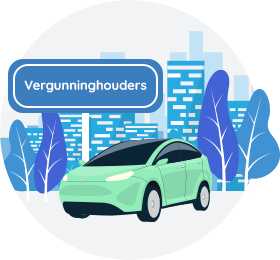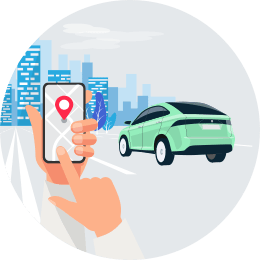 Download the Vicky App
Do you actually have no question at all, but did you end up here by accident? Then download the Vicky app, you are there now.
Vicky gets these questions quite a lot
What do the hourly rate, the minimum price and the 24-hour price entail?
The hourly rate is the fee that we charge for an hour of parking pleasure. After a full hour, the fee we charge increases every minute until you reach the 24-hour rate. • The minimum price is the minimum fee that we charge. We don't add this fee to your bill: it's an advance payment on your parking spot. • The 24-hour rate is the maximum fee that we charge every 24 hours. Have you reached the 24-hour rate? The fee won't increase after this: after 24 hours the metre starts running again starting from the minimum fee and until you reach the 24-hour rate again.
I accidentally stayed too long… Now what?
Oops, then an increased rate probably applies. Vicky indicates well in advance through three different notifications when your booking expires and when you have to extend it. In order to receive these notifications, always make sure to grant the app permission to send them. No worries: Vicky only sends messages with information about your booking, nothing more and nothing less! If you have not extended your booking in time, you'll first have to pay the increased rate. You'll then have access to the booking again for 15 minutes. This allows you to either leave the parking spot or extend the booking. Being punctual has never been more functional: it prevents unnecessary costs and you'll help Vicky use the parking lot as efficiently as possible.
How much does it cost to rent out my parking spot through Vicky?
Starting a rental business is a piece of cake! Getting started won't cost you any money: we only charge on the parking fees collected. No action? No costs! For more information, please contact sales@vicky.one. We are happy to help you on your way with renting out your parking spot via the Vicky app.